LOWERING KIT 1.5" FRONT / 2" REAR fits 5 Lug XRUNNER 2005-2015 TR.1520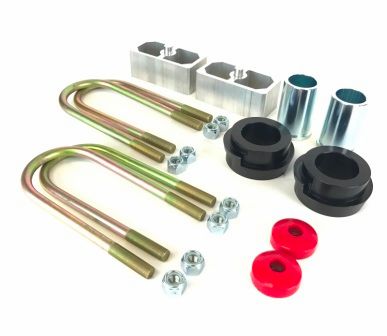 LOWERING KIT 1.5" FRONT / 2" REAR fits 5 Lug XRUNNER 2005-2015 TR.1520
Tacoma 2x4 & XRunner Lowering Kit

This lowering kit is designed to fit 2005-2015 Toyota Tacoma 2x4 & XRunner. 
This kit is easily installed and greatly enhances handling by lowering the vehicle roll center. 
The TR-1520 Drop Kit Lowers the front 1.5" and lowers the rear 2".


The complete drop kit contains:
1 pair-Anodized Aluminum Front Spring Perch
1 pair- Alloy Steel Front Shock Sleeve
1 pair- Extruded Aluminum Lowering Blocks
1 pair- Rear Bump Stops
2 pair- U-Bolts
8 Lock Nuts
Installation Instructions
Fitment note: TR-1520 installed on  Tacoma 2x4 will require 
O.E. Xrunner Front shocks
This kit is completely bolt on and requires no welding.
Tacoma 2x4 installs may require oem xrunner front springs to get desired drop
Reviews