LOWERING KIT 1.5" FRONT / 2" REAR fits 5 Lug Tacoma & XRUNNER 2005-2015 TR.1520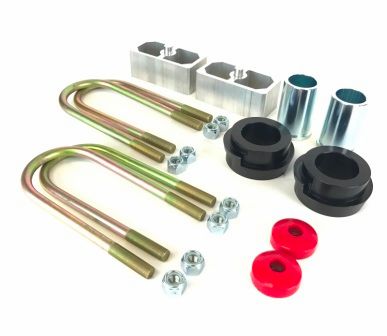 LOWERING KIT 1.5" FRONT / 2" REAR fits 5 Lug Tacoma & XRUNNER 2005-2015 TR.1520
Tacoma 2x4 & XRunner Lowering Kit

This lowering kit is designed to fit 2005-2015 Toyota Tacoma XRunner and 5 Lug 2x4 . 
This kit is easily installed and greatly enhances handling by lowering the vehicle roll center. 
The TR-1520 Drop Kit Lowers the front 1.5" and lowers the rear 2".


The complete drop kit contains:
1 pair-Anodized Aluminum Front Spring Perch
1 pair- Alloy Steel Front Shock Sleeve
1 pair- Extruded Aluminum Lowering Blocks
1 pair- Rear Bump Stops
2 pair- U-Bolts
8 Lock Nuts
Installation Instructions

This kit is completely bolt on and requires no welding.



Tacoma 5 lug 2wd installs will require XR oem or Bilstein front struts.
Reviews