REAR DISC CONVERSION WITH PARKING BRAKE / TR.PS2.TA5.PB fits 2005-22 TACOMA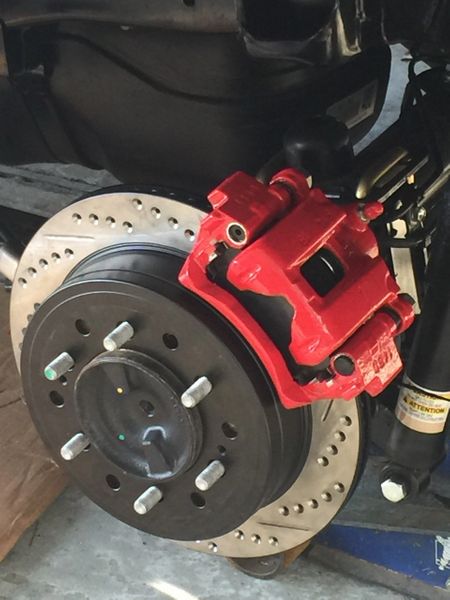 REAR DISC CONVERSION WITH PARKING BRAKE / TR.PS2.TA5.PB fits 2005-22 TACOMA
Pro Series II Rear Disc Brake Conversion Kit
2005-22 Toyota Tacoma 4x4 & PreRunner
This kit uses 2010+ Toyota FJ Cruiser rear components. 
(Rotors, calipers, pads, hoses, parking brake shoes and parking brake actuator internals)
 This kit is designed to be used with stock front brakes, TRD, Stoptech & Rotora Front brake upgrades.
Conversion Kit Contains:
S.S. Caliper Hoses
Brake Pads
Stoptech / Centric rear rotors
Backing plates & brackets with black powder coat
parking brake kit
All hardware included
Rear Calipers with Silver, Red or Black finish.
(Calipers are Remanufactured using OEM castings)
Installation Manual
Note: This kit includes parking brake option. However the OEM drum parking brake is superior to the the rear disc conversion parking brake for 2 reasons. 1) the oem parking brake shoes are larger & have approximately 50% more friction surface. Also the OEM drum diameter is larger in diameter as compared to the drum inside the rotor. Approx 8 hour installation 


Our optional SOS Sequoia master cylinder upgrade will give you a firmer pedal feel

This kit is designed to replace the original equipment rear drum brake system on all 6 Lug


2005-2021 Toyota Tacoma 4x4 & PreRunner. 
Compatible with factory ABS & master cylinder. 
It should be installed by a qualified automotive brake system technician.
Install Manual:
Reviews