REAR DISC CONVERSION fits 2000-06 Tundra, 1998-2002 Tacoma, 4Runner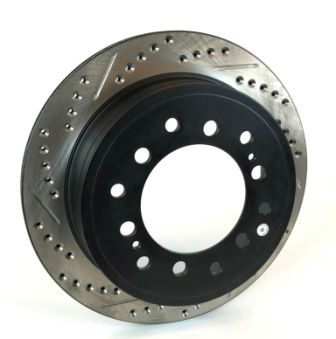 REAR DISC CONVERSION fits 2000-06 Tundra, 1998-2002 Tacoma, 4Runner
Pro Series II Rear Disc Brake Conversion Kit fits
2000-06 Tundra & 1998-02 Toyota Tacoma & 4Runner.
This kit uses 2007 Toyota FJ Cruiser rear disc 
calipers, pads, hoses . 
Conversion Kit Includes 
2007-14 FJ cruiser rear calipers
2 Caliper Hoses
Set of 4 Brake Pads
2 Rear rotors
2 Calipers brackets with black powder coat
Parking brake is disabled with this kit ( If you want to retain a parking brake, go to this page below ) 
https://sosperformance.com/products/rear-disc-conversion-with-parking-brake-slash-tr-dot-ps2-dot-ta5
All hardware included
Installation Manual

This kit is designed to replace the original equipment rear drum brake system
2005 Sequoia master cylinder conversion is recommended on 2000-06 Tundra.
Kit should be installed by a qualified automotive brake system technician. 
Reviews