TACOMA REAR SWAY BAR KIT TR.1221.TA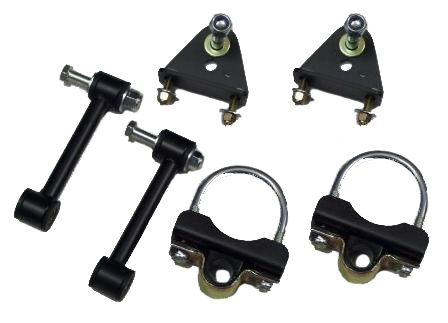 TACOMA REAR SWAY BAR KIT TR.1221.TA
Tacoma Base,  PreRunner and 4x4 Rear Sway Bar Kit
This kit is designed to install the o.e. X-Runner Rear Sway Bar on your 
2005-2015 Toyota Tacoma PreRunner and 4x4. 
Easily installed and greatly enhances handling. 
This kit is completely bolt on and requires no welding.
TR1221.TA kit Includes the mounting kit for the O.E. XRunner rear sway bar.
The Mounting kit contains all of the items pictured:
1 pair-Frame Brackets
1 pair-Axle Brackets
1 pair-Clamps with Urethane Bushings
1 pair-End Links with Urethane Bushings
1 pair- U-Bolts
Fasteners
Installation Instructions
Required, but optional XRunner OEM Rear Sway Bar Part # 48812-AD030 
We do not offer shipping on the sway bar to PR, Canada, HI or AK. However, it can be purchased at your local Toyota dealer. 


Reviews