REAR DISC CONVERSION Backing Plate Kit / TR.PS2.TA5.BPK fits 2005-23 Tacoma 6 lug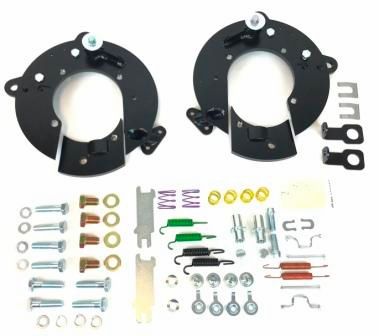 REAR DISC CONVERSION Backing Plate Kit / TR.PS2.TA5.BPK fits 2005-23 Tacoma 6 lug
This item is in stock
We have made it easier to convert your Tacoma rear drums to disc using O.E. 2010-14 Toyota FJ Cruiser rear components. New improved kit now retains the OEM parking brake cables 
Also, comes with the additional parking brake internals parts.
Rear Disc Backing Plate Kit
fits All 2015-23 Toyota Tacoma 6 Lug
Double Cab, Access Cab & Reg Cab

For the ultimate in Tacoma rear braking, the wait is over. This kit is designed to be used with stock front brakes, TRD, Stoptech & Rotora Front brake upgrades.
Backing Plate Kit Contains:
 Backing plates with integrated caliper brackets

Lower Filler Plates
Backing plate mounting bolts & washers
Shoe guide washers & spring bolts
Caliper mounting bolts & washers
Brake hoses, mounting brackets & hose clips
Levers and Struts
Parking brake spring kit
Installation Manual
Additional parts needed to complete installation...2010-15 FJ Cruiser rear calipers, pads, rotors, shoes.
Master cylinder upgrade is recommended but not required.
Note: This kit includes parking brake option. However the OEM drum parking brake is superior to the the rear disc conversion parking brake for 2 reasons. The oem parking brake shoes are larger & have approximately 50% more friction surface. Also the OEM drum diameter is larger in diameter as compared to the drum inside the rotor. Approx 8 hour installation 


This kit is designed to replace the original equipment rear drum brake system on all 
2005-2023 Toyota Tacoma. 
Compatible with factory ABS. 
It should be installed by a qualified automotive brake system technician. 
Installation Manual Download:
Reviews