Volvo XC60 S60 T6 Performance Downpipe iPD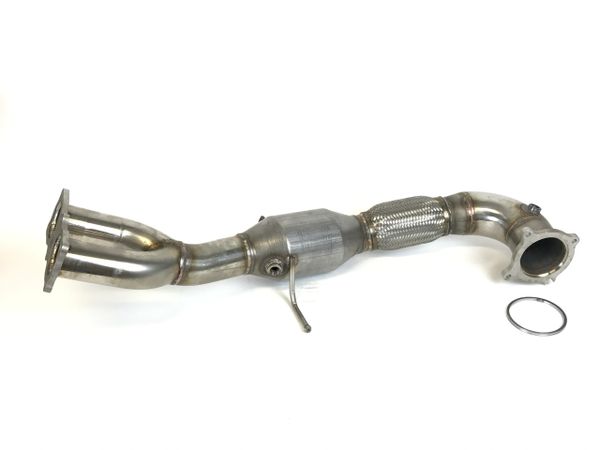 Volvo XC60 S60 T6 Performance Downpipe iPD
THIS ITEM IS OUT OF STOCK
Downpipe Upgrade is a great way to complement your sport cat-back exhaust system. By reducing the exhaust back pressure, the iPd Downpipe Upgrade will provide a smoother flow of exhaust gases, quicker turbo spool-up, and noticeable performance and audible improvements.
iPd Downpipe Upgrade is manufactured using high quality, 304 stainless steel, 3.35" (85mm) mandrel bent piping and tig welded for direct bolt-in fitment. This Downpipe Upgrade fits the factory mounting points and uses a 150 cell metal catalyst. The metal catalyst included will cause no errors or malfunctions to ensure your vehicle runs and drives perfectly.
**Note: New nuts and bolts will need to be purchased from your local hardware store. The factory downpipe has pressed in studs that cannot be re-used.
DISCLAIMER: Performance downpipes have not been tested or approved by any international, federal or local governing agency for street use. As such, they are designated for NON-ROAD or RACE TRACK use only, not for sale or use in the state of California. Please research the emissions and legal requirements for your region.
VEHICLE FITMENT:
2010+ S60/V60 T6 AWD, R-Design (6-cylinder turbo)
2015-2016 S60/V60 Polestar
2007+ Volvo S80 II T6
2008+ Volvo V70/XC70 III T6
2010+ Volvo XC60 T6
Reviews